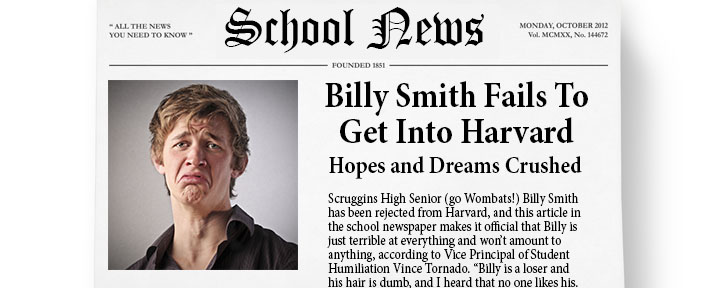 My hat's off to Palo Alto High School (aka Paly) for stopping the demeaning "End-of-the-School-Year Map" in their high school paper The Campanile this year. This map pointed out which colleges each senior planned to attend the following year accompanied by a list of students' names with their respective colleges. Ouch! As if it wasn't bad enough that all of the seniors knew which colleges you didn't get into; but to have an official list in the school paper was tortuous to many students.
With Stanford University just up the street, many Paly students are children of professors or Silicon Valley executives. Palo Alto students receive top-notch education in their public schools – better than many private schools in the area. There's a lot of pressure on these students to take excessive amounts of AP classes and engage in extracurricular activities. When SAT or ACT scores are released, everyone knows who got perfect scores. I remember meeting with one of my clients just 20 minutes after the SAT scores were released. She walked into my office sobbing – so I assumed she bombed the SAT – but was taken aback when she told me she got a 2380 (out of 2400). Apparently everyone shared their scores within minutes and she learned that 7 other students at her school received a perfect 2400. Imagine being upset with a 2380?
I find it disturbing that there is an air of arrogance by both parents and students towards students who choose to go to community college and transfer to a 4-year university. Parents often force students to choose more prestigious schools even though they're not a perfect fit.  One parent told me that her daughter wanted to go to UC Santa Barbara but she insisted that she attend UC Berkeley because it's more prestigious. Wow.  Another student selected UC Santa Barbara only to find out later that it didn't offer business marketing – and she later dropped out. Choose colleges because they offer great programs in your areas of interest, not based on image.
Just this year, one of my clients got into Columbia University but didn't receive much by way of scholarships.  His mother had just lost her job and there was no way his parents could pay the $275,000 tuition for an undergraduate degree.  After many tears and stressful conversations, they decided that the student would go to UC Berkeley instead. Sadly, other parents showed disdain for the parents because they believed that families should do whatever is necessary so their children can get into the best colleges.
Choosing your college path is personal. Many students need to factor in the cost of their entire academic plan so they can stretch their funds to include grad school. They might do 2 years at a community college, 2 years at a state college, and complete their education with a master's degree at a private university. Others consider programs offered and choose colleges because of the training and exposure they'll receive. Isn't this why students go to college?
As a college advisor, I tell my clients NOT to share their SAT/ACT scores, GPA, or college lists with anyone. Why? It's nobody's business, and it's awkward and painful to hear how well everyone else did and to have to answer relentless questions about scores and admissions decisions from nosy people. I hope other high schools follow in Paly's footsteps by dropping the End-of-the-School-Year Map and lists of who is going to which college. That way, students (and parents) won't have to deal with judgmental comments and gossip.
[Source]