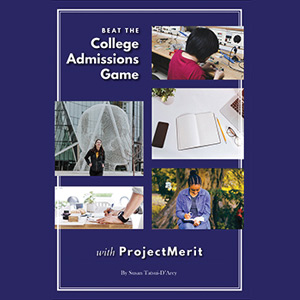 One of the best things a high school student can do to improve their chances of getting into their top colleges is to do a project.  With grade inflation making a 4.0 (or 5.0) GPA commonplace, students need to do something to stand out.  It used to be that playing a sport and an instrument would be enough.  Then volunteering for a charity or shadowing a professional would help beat the college admissions game.  But today, colleges are looking for students who delve into and stick with something that fascinates them.  Colleges want dynamic students who might design innovative devices, solve climate change, or find medical cures.
Top colleges admissions committees aren't impressed that students take 16 AP classes or compete in 3 sports. Yup! They don't believe students who claim to be president of 4 school clubs and members of 10 others. It's not about quantity, but about the quality of the activity.  Colleges want to see students explore ideas and pursue them.  They're looking for students who start their very own project – not begrudgingly do something that is assigned by a teacher, required by a club, or completed by their parent. 
Check out projects that give students the edge in the college admissions process.
By brainstorming about doing a project, students explore areas of interest.  Then they carve out their niches and do something substantial. I've just published the 3rd edition of Beat the College Admissions Game with ProjectMerit to walk students through the entire process of doing ProjectMerit.  These projects will help build confidence and open the doors to colleges and scholarships!