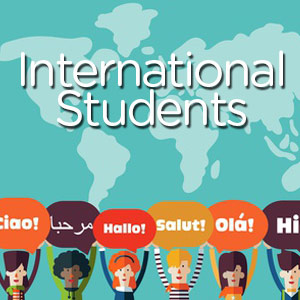 Until recently, international students always paid full fare for their privilege to attend American colleges and universities.  But that is changing because colleges are seeking those higher-caliber international students.  To be competitive, colleges are offering scholarships to attract those top-notch students from abroad.
At public colleges, there's been a bit of a backlash from in-state families because legislatures and constituents want public colleges to cater to the taxpayers who finance these institutions.  Makes sense. So some public colleges offer modest non-need based scholarships to students they hope will matriculate to their colleges.  These students receive scholarship dollars to offset the out-of-state tuition fees, but they rarely ever get a full ride (all tuition and housing fees).  That's reserved for well-deserving in-state students!
Private colleges, on the other hand, have more leeway to offer scholarships because their institutions don't rely on public funds from taxpayers. So they don't deal with politics the way public colleges do.  If the college really wants a particular student, they now offer scholarships – even full rides – to sweeten the offer.  That's just like they do to entice American students to attend their colleges. 
By giving scholarships to international students, it helps create a more global community of students who learn to work together as they prepare to solve major issues that we face as a civilization.