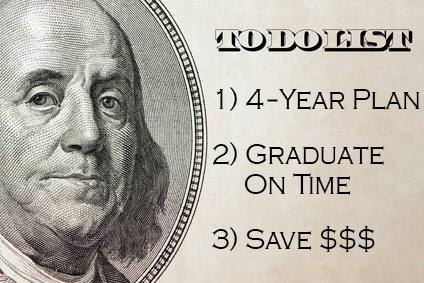 Why is it that parents carefully plan out what schools, classes, and extracurricular activities for their children until they graduate high school, but they don't plan out courses, internships, research and projects for college?  Sounds ridiculous when considering the cost -- $80,000-$250,000 – of a bachelor's degree. Parents, and students, should carefully map out a plan for their four years in college before they move out so they make the most of this incredible opportunity.
Instead, parents send their kids off to college carefully checking off items like extra-long bed sheets, shower slippers, and laptops.  They expect the college to help their children navigate the college course selection process on their own. The advisors at college help students select classes for the upcoming term and loosely guide them as they choose courses that satisfy general ed (GE) and major requirements.  So what's wrong with this? 
By selecting classes each term – instead of looking at the big picture,  students don't consider upper division courses that they'll take later that may have several prerequisite courses that should be taken during freshmen or sophomore years.  That means that when they're juniors or seniors, they won't be able to take some of the more interesting courses in their major because they won't have time to take the prerequisite courses before their graduation.  In other words, without careful planning, students don't get to take advantage of the many courses and programs that are offered at that wonderful college that their parents are giving up their retirement savings for.
Before heading off to college, students who create 4-year plans that include GEs and lower-division, upper division, and elective courses for their majors are more likely to take the interesting classes and double dip (take classes that satisfy more than one requirement).  What does that mean? These students graduate in 4 years, instead of 5 or 6!
By choosing majors, GEs, all courses and electives BEFORE students head off to college, they're more likely to get the courses they need and take advantage of research, internships, and paid jobs. That's why we help students create these 4-year plans for students right after high school graduation.  This ensures that parents avoid unnecessary college expenses and that their children move on to higher ed or a career sooner rather than later.