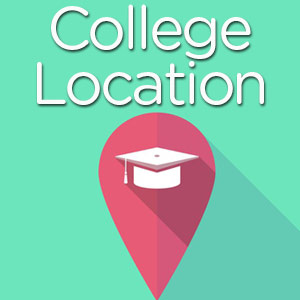 You've heard that LOCATION, LOCATION, LOCATION is everything in real estate and retail business, but did you know that location is also a key factor in choosing the right college?  Yup! I've been advising students to choose a college that's located in a vibrant city where they can intern in top companies – possibly for their future employer. Going to college in cities where they can explore the industry and make vital contacts adds a bonus to the mix when choosing colleges.
According to Stanford's Chetty and coauthor Brown University economist John Friedman, students who attend college in New York City, Silicon Valley, Los Angeles, Salt Lake City, Fayetteville (Ark), El Paso, and San Antonio, increase their after-college earning salaries by as much as 15%. 
In other words, you don't want to study business marketing in a rural community or animal sciences in a metropolitan city.  It's really just common sense.
[Source]