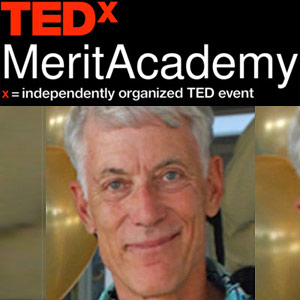 In August, Merit Academy hosted TEDxMeritAcademy at the Rio Theatre in Santa Cruz.
Tim Niemier was a featured speaker, and his TEDx Talk is embedded below.
"How do we stop the flow of plastic pollution into our oceans?"
We need healthy oceans, but we can't give up our plastic. Maybe there's a way that we can have healthy oceans and still use plastic. If we create value for recycled plastic as a new resource, we can prevent it from harming our life-sustaining oceans. Tim will discuss a clever way of combining great worldwide designs with an inexpensive local recycling process that can stop the flow of plastics into our oceans.
About Tim Niemier: Tim's goal in life is to put "A billion butts in boats in healthy water." He is the founder and designer/entrepreneur who introduced the sit-on- top Ocean Kayak to the world. These kayaks revolutionized all paddle sports because it made kayaking water-friendly. Bringing millions of people into the water makes them appreciate the delicate balance of our eco systems. Tim was 100% responsible for all post-consumer waste and pioneered product stewardship in the water-sport industry and other endeavors.  He also continues to lead many environmental organizations with creative and sustainable innovations. Tim enjoys finding solutions to cleaning the ocean using resource management and recycling.