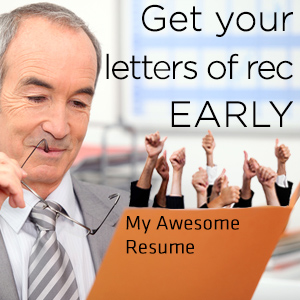 When should you ask for Letters of Recommendation?
Hint: Not the day before your college application is due! Obviously, that would be very rude and would probably land you a luke-warm recommendation at best.
Most teachers and counselors request that students give them a list of the colleges and deadlines that they're applying to 4 weeks before the first application is due.  Super organized teachers and counselors also give students and parents questionnaires to complete that will give them interesting information and sound bites that they can use in their letters.
Better yet, give your teachers an updated resume that will give them a well-rounded perspective on you so they can make your letter of recommendation stand out. THAT'S THE GOAL, RIGHT? They already know how you're doing in their classes so you don't need to remind them of your grades or special assignments.
Instead, focus on projects you've done outside of the classroom. If you've lead school groups or clubs, participated in varsity or club teams, played an instrument, volunteered in the community, or done anything extraordinary (PROJECTS!), this is the place to toot your horn! You can even add photos to give them a better understanding of your participation in the various programs.
Always include a formal cover letter. Anytime you ask for a favor of anyone, always do it in writing and include pertinent information (deadlines, list of colleges, URLs, etc.). By taking the time to write a cover letter, you demonstrate your appreciation of their precious time. 
Remember, teachers don't get paid to write these and English/history and math/science teachers typically write about 50-200 letters of recommendation every fall. This would be a good time to tell them how you have enjoyed memorable class lectures or marvel at their vast knowledge about a particular subject. Keep it real though; they'll see right through brown-nosing.
So get started on your resume now -- before school starts in the fall and you won't have time to put together an effective resume. The ideal time to request letters of recommendation is during the first week of school to beat the onslaught of requests that they'll get in October and November. Time to get cracking!