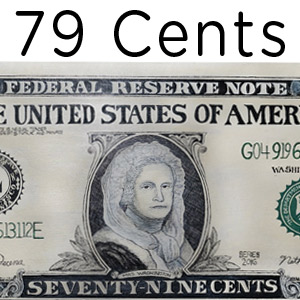 One of my male students Nathan Decena – a teen at the time – painted the image below to portray how women are short changed (no pun intended) in the workforce.
Look closer and you'll notice that instead of George Washington's face, he painted Martha Washington (George's wife). Instead of "1" he painted ".79" because women make 79 cents on the dollar that men make.
I love it when men step up for women to show their support. He will be launching his website DollasDotCom where you can purchase this image on beach towels, mugs, t-shirts, and more!