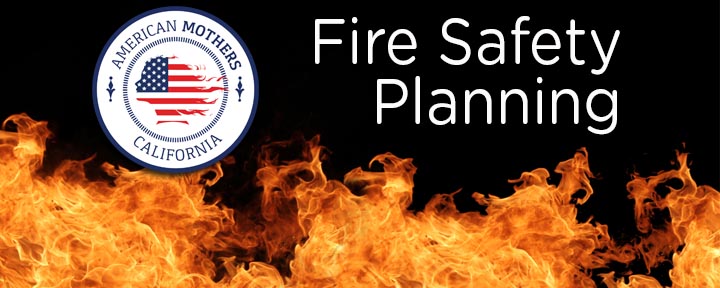 Worried about fire danger? You're not alone. If you think your fire department and the government will protect you should there be a major fire or earthquake – do the math -- they don't have the manpower to save everyone. Think Paradise and Woolsey fires where 86 people died and over 18,000 structures were destroyed. I live in a tinderbox on 2+ acres, and I'm working with local Fire Chiefs, First District Supervisor, and Resource Conservation District to set up fire prevention and protection in my neighborhood.
You can do a few things right now to make sure that you, your family, the elderly and pets will be able to evacuate in time when the next fire or earthquake hits. In a crisis, firefighters and paramedics can reach all of us if we give them vital information. Will they know that you have an indoor cat or dogs locked up in your yard? What about the elderly or sick who might not hear sirens or loudspeakers? And to prevent wildfires from spreading exponentially, do you know where your propane tanks, gas tanks, and electricity boxes are located on your property and your neighbors'?  
Here are things you can do NOW:
     ☐  Gather neighborhood contact information (share this blog with all of your neighbors) Include names, address, children/elderly/disabled, phone, email, and pets.
Here are things you can do for you and your family:
     ☐ Create Family Disaster Plan [link to https://www.ready.gov/make-a-plan]
     ☐ Learn how to use your fire extinguishers
     ☐ Practice turning off your gas, electric, and water controls
     ☐ Make your Go Bags with emergency supplies, first aid kits, medications, etc. [https://www.sf72.org/plan]
     ☐ Take first aid and CPR classes [https://www.redcross.org/take-a-class/cpr]
     ☐ Get your pets microchipped [https://www.wikihow.com/Microchip-Your-Dog]
     ☐ Create an evacuation to-do lists: (1) Go Bags, pets, list of valuables you can't live without; (2) Turn off utilities, lock up house, post sign (indicating you've evacuated). [http://www.readyforwildfire.org/docs/files/File/calfire_go_brochure_LINOweb.pdf]
     ☐ Make your home fire safe [https://www.nfpa.org/Public-Education/By-topic/Wildfire/Firewise-USA]
     ☐ Create defensible space to protect your home [http://www.readyforwildfire.org/Defensible-Space/]
     ☐ Sign up for CODE RED to get emergency alert messages on your landline or cell phones (reverse 9-1-1) [http://communityemergency.org/alerts/] or [www.scr911.org] for Santa Cruz
 Here are things you can do for your neighbors:
     ☐ Create a map of their gas, electricity, and water controls (so you can turn them off if they are gone during evacuations)
     ☐ Find out who is elderly, sick, or disabled so EMS can help them evacuate
     ☐ Be prepared to place "Help" or "OK" signs so first responders don't waste time searching for victims who have already evacuated.
     ☐ Set up Neighborhood Care Center where children, elderly/disabled, and pets can be safe until help arrives.
     ☐ Find out if there are healthcare professionals in your neighborhood who can help triage and treat victims if EMS is not available
     ☐ Organize emergency equipment and supplies for neighbors that include first aid, tents/bedding, chain saws, generators, fire extinguishers, NOAA weather radio, walkie talkie, etc)
     ☐ Get CERT trained (Community Emergency Response Team) [https://californiavolunteers.ca.gov/community-emergency-response-team-cert/ or www.santacruzcountycert.org for Santa Cruz.
Remember Yogi Bear? He was smarter than the average bear? Now Yogi Bear is saying, "I'm losing control, Boo-Boo.  I don't know who's steering the ship!" So set aside 2-3 hours every weekend (you CAN DO THS!) to put together your Go Bag, make your lists, and to check off each of the boxes above. You'll be glad you did!