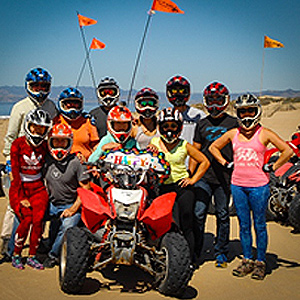 Birthdays are about being together. It's not about parties or gifts – it's getting off the treadmill and doing fun things that they normally don't have time to do.  I turned 60 last weekend and planned a family getaway in Pismo.  After watching the girls plan Rob's Surprise 60th birthday party last year, I knew I had to come up with a plan before they started making plans for a similar-type celebration for me. Hint: I don't like surprise parties! 
So we caravanned down to Pismo with good friends, and the girls and their friends met up with us.  We stayed in the same beautiful beach house that we've stayed in for 15 years.  After I cleaned the windows – okay, I'm a little eccentric – everyone appreciated being able to see the ocean and dunes. We played Super Deluxe Scrabble, a family tradition, and our newcomer friends needed PTS support and debriefing as they played with us.  Yes, Sam, Nicole, and I are a little competitive… 
We rode our ATVs all over the sand dunes on Saturday and Sunday.  The sand dunes in Pismo are right next to the ocean, which provided the perfect backdrop for our traditional group photos.  They made me the leader – not sure why because I have no idea where to go – and they tied a giant "happy birthday" balloon to my ATV pole flag.  Well, they were able to spot me from anywhere in the dunes! Sam got 5-6 feet of air and went over a 15-foot stretch!  Naturally, everyone just had to try to beat him.  Besides a few minor accidents, we all made it without any broken bones!
Next year, we want to rent an RV so we can play Scrabble on the way down and back again.  We're all about making the experience fun.  We rented an RV about 10 years ago and camped on the beach.  I'd prefer playing games in the RV as we drive to Pismo and then stay in the beach house.  Just saying…