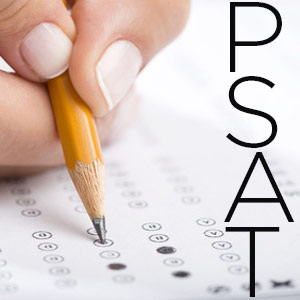 It can help with college scholarships and admissions.  Here's how:
Everyone thinks the PSAT is just a preliminary "SAT" that colleges don't see, and subsequently, they neither prep for it nor take it seriously.  BIG MISTAKE!  The PSAT is actually also the NMSQT, National Merit Scholarship Qualifying Test, which is the only way you can qualify to be a National Merit Scholar. Out of the 1.5 million students who take the PSAT each year, 34,000 students are commended and 16,000 become semifinalists.  Of these 16,000 semifinalists, 15,000 go on to become Merit Scholars.  These scholars win $2,500 scholarships or corporate/college scholarship awards.  And this is just for taking the PSAT!  Easy peasy.
Being recognized as a recipient of the Merit Scholarship Award is highly regarded by college admissions committees.  When my daughter Nicole won this award, she received a full-scholarship offering from colleges that she didn't even apply to!  Colleges get ahold of these Merit Scholars and actively pursue them as they recruit students each year.  
My recommendation: Take PSAT practice tests so you become familiar with the test process.  Work on improving your scores by completing each section within the given time allotment.  Review math concepts that you may have forgotten over the summer.  READ, READ, READ.  The best way to improve the tricky reading comprehension and grammar sections is to simply read every day.
You can start taking the PSAT in 9th grade.  Your "real" PSAT score is calculated in 11th grade, so by starting early, you get 2 chances to prepare.  Just think -- this is probably one of the easiest scholarships to apply for -- No essays! No interviews!.  And if you score in the top 4%, colleges will be knocking on your door!