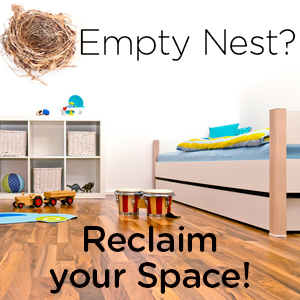 If you're an empty nester like I am, you probably have a few extra bedrooms that are in that in-between stage of still being your child's old bedroom (yup, I'm that sentimental mom!) and your future sewing room or art studio that you've dreamed about for years. Well, I'm embarrassed because my eldest daughter moved out in 2003 (over a DECADE ago) and my youngest in 2007!
Just think about how much rent I could have collected over those years! 
I don't know why but I just couldn't throw out their favorite dolls and art projects that they treasured as kids, even though they claim that they don't have space for it in their apartments. How did this become my problem? Nevermind, it's up to me to solve it!
I started reading up on murphy beds and hatched a plan to convert their old time-capsule bedrooms into functional rooms for sewing and art projects. But then I learned that the prices START at $2,000 and go up as high as $4,000 (and I needed 2!), and I knew I couldn't afford to buy them. And besides...I couldn't find EXACTLY what I wanted. I'm picky! If I couldn't buy them, I'd MAKE them!
I do my best thinking in the middle of the night, so I got out of bed one night to draw up plans to build murphy beds. My biggest problem was that I wanted to save their things but I
didn't
want the room to look like a memorial to them. How could I display their stuff yet have the space and ambiance to inspire the
inner Picasso
in me?
Late nights are great for this kind of brainstorming, so I thought SHELVES. Why not put shelves over the bed to hold all of their stuff? That way, when the bed is closed, the shelves are hidden. Problem solved! I could put all of my girls' knick knacks on those shelves so when they come home to visit, they could see all of their treasures and sleep in a bed all nestled in their awesomeness! And when they leave, I could close up the bed and have a white board and creative space available in my art studio and sewing room to create the next amazing project. The best of both worlds!
Believe it or not, building a murphy bed is actually really easy...and I'll tell you exactly how I did it next week!  With photos!