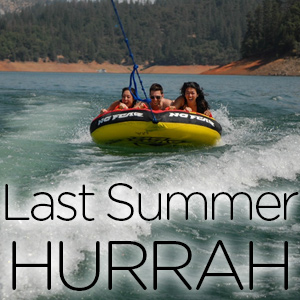 Just returned from the best houseboating getaway on Lake Shasta with Jaclyn and Alex and friends!  It had been awhile since we waterskied and tubed, and now we're all feeling muscles that we forgot we had. 
Driving the ski boat on the lake brought back fond memories of our Pine Flat waterskiing parties.  Just being away from cell towers (no internet or wifi) was such a liberating feeling – being disconnected from the rest of the world! Our houseboat came with a full-sized fridge, dishwasher, compactor, gas grill, stereo, TV (we didn't use this!), jacuzzi, wet bar, and most importantly, A/C!
When not waterskiing, tubing, or wake boarding, we kayaked and paddleboarded. Thanks to Tim Niemier for shipping us his prototype for the new Origami Paddler (paddleboard that conveniently folds into thirds) just in time for this trip! I like the short length and buoyancy – this was my first time paddleboarding.  The water level was surprisingly high thanks to El Nino.  Johnny and Lori took toddler Azalea on our 3-person Ocean Kayak, and Jaclyn and I took Radar on the other kayak.  Not sure if Azalea or Radar liked being a passenger but it was still entertaining.  We traveled down to the dam and watched what happens (to another boat) when you pass through the buoys and get too close to the dam… the sheriff appears out of nowhere with sirens and loud speakers!
Finding creative ways to go down the slide quickly became a competition, and Alex catching a can of beer (nice toss Johnny!) mid slide won the biggest roar of laughter. When the sun went down, the 20-somethings soaked in the hot tub under a gorgeous full moon while drinking champagne.  A D'Arcy tradition, we played Taboo but apparently the elders had an advantage (you'd never know it by the scores) because it was an "older version from the 80's." Really made me feel old when they didn't know who Walter Cronkite was or never heard of "Bonanza"… Good food is always at the heart of our adventures, and Rob planned a healthy and delicious menu with everyone's favorites: Thai Chicken Curry, Goi Ga (Chinese chicken cabbage salad), and fried rice and eggs.
These boating trips take lots of planning to round up the players and gather up all of the toys for each group – and it's all worth it!  We're already planning our next houseboating adventure for next summer!