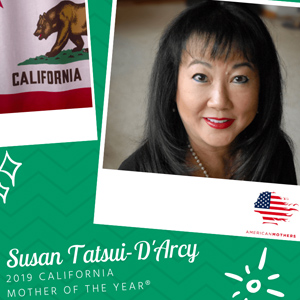 As we announced earlier, Susan Tatsui-D'Arcy has been pronounced 2019 California Mother of the Year by American Mothers, Inc.  We're very excited about this, so we're sharing more content from the official announcement.  Today's content comes from her page on americanmothers.org, which you can find here.
More about Susan
Susan Tatsui-D'Arcy was born and raised in Southern California and currently lives in Santa Cruz, California. After her first child was born, Susan set up a preschool so she could spend more time with her daughter and provide engaging activities for her. She invited other children to join to create a stimulating and social environment. Realizing that no existing school met the standards she wanted for her children, she opened an elementary school for accelerated students that expanded with her children as they advanced each year. When her daughters were in middle school, Susan created ProjectMERIT to inspire teens to find their niches and pursue independent projects and then expanded Merit Academy to include high school and college advisory. Susan has written eleven books on parenting, education & time management. Susan is the CEO and founder of Merit Academy and Merit Educational Consultants. For fun, Susan skis, ATVs, and manages her aquaponics garden and permaculture fruit orchard.  
What is your favorite memory as a mother?
My favorite memory as a mother was reading aloud the 1500-page biographies that I wrote about my daughters to each of them. I recently completed this 15-year project and bound their biographies in 7 volumes. I read passages from the biographies to them while we were driving on a road trip. We laughed because they hadn't heard many of the stories. They were intrigued to see many of their personality traits started when they were very young. Sharing these stories and photos with my girls is one of my favorite memories; I hope they share them with their future families.
 What is the craziest thing one of your kids has done?
My 14 year old daughter wanted to make alcohol fuel from rotten veggies so she asked me if she could buy the materials to make it. I gave her my credit card and she ordered the parts online. A few days later, I received a phone call from the FBI inquiring about my purchases of parts to build a 5,000-gallon still! I put them on hold, so I could talk to my daughter. She had decided to build a big still so she could make enough fuel for the year! Luckily, the FBI had a sense of humor!
What was your biggest misconception about being a mom?
I thought that once I figured out the parenting thing when my girls were toddlers, I'd know how to handle all of the future stages of development. Nope! It seemed that as soon as I figured out how to deal with tantrums, hurt feelings, and fairness, they inevitably would present me with something unexpected — sending me back to square one, again! Being a mom is one of the most challenging — and wonderful — things I've done!
Throughout the coming year, Susan will speak to mothers across California about two of her passions: Setting up free child care for mothers, and guiding students to do projects that will help them get into top colleges, while solving regional and international problems. 

Susan will be honored at the California Mother of the Year® gala in La Cañada Flintridge on April 13th where she'll talk about her plans to speak to moms at multiple events via many different media platforms throughout the year. 

Susan is also a nominee for the National Mother of the Year® award, which will be announced in Washington D.C. on April 30th.  

Link to Mother of the Year Announcement: 
https://www.americanmothers.org/honor-mom/mother-of-the-year/2019-honorees/

More about American Mothers, Inc

The California Chapter of American Mothers Inc. is an inter-faith, non-political, non-profit organization which recognizes and supports the important role of motherhood with service and education.  American Mothers Inc. is a nonprofit organization founded by President Franklin Delano Roosevelt's mother Sara Delano Roosevelt in 1935, and it has been honoring Mothers of the Year in all 50 states every year since. Many outstanding individuals throughout America have also served as officers, leaders, supporters and award recipients of this organization such as First Lady Mamie Eisenhower, Congresswoman Lindy Boggs, and Hillary Rodham Clinton.