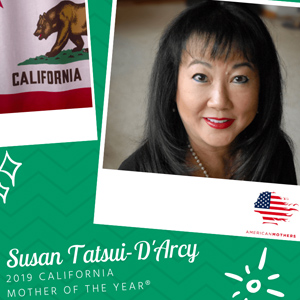 We're proud to announce that Susan Tatsui-D'Arcy has been selected to be the 2019 California Mother of the Year® by American Mothers, Inc. This nonprofit organization was started by President Franklin Delano Roosevelt's mother Sara Delano Roosevelt back in 1935, and it has been honoring Mothers of the Year in all 50 states every year since. Many outstanding individuals throughout America have also served as officers, leaders, supporters and award recipients of this organization such as First Lady Mamie Eisenhower, Congresswoman Lindy Boggs, and Hillary Rodham Clinton.
With Susan's platform, she will speak to mothers about two of her passions: Setting up free child care for mothers, and guiding students to do projects that will help them get into top colleges, while solving regional and international problems.
Susan will be honored at the California Mother of the Year® gala in Southern California on April 13th where she'll talk about her plans to speak to moms at multiple events across many different media platforms throughout the year.
Susan is also a nominee for the National Mother of the Year® award, which will be announced in Washington D.C. on April 30th.  If you have suggestions for outreach that Susan can do as California's 2019 Mother of the Year®, please email her at susan@meritworld.com. Here's a link to the American Mother's formal announcement!