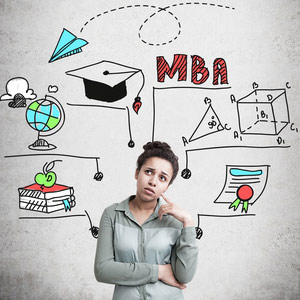 Considering getting an MBA?  Think again.  Many full-time MBA programs are changing the direction of their programs, and MBA grads are giving these programs low rankings. Although the international MBA programs are continuing at major universities, domestic programs are scaling back their executive MBA and MBA markets because of these 3 reasons: (1) employers are reluctant to pay higher salaries; (2) many MBA programs offer online courses; and (3) grad students are losing interest in the MBA programs. Wake Forest, Virginia Tech, and Simmons College have closed their MBA programs and that seems to be a new trend, but full-time MBA programs at the most elite colleges will continue.
Seems that grad students are preferring the master's programs that can be completed in just 9 months and at about half the cost of an MBA.  These programs are more specialized so students can focus on finance, accounting, international business, management, marketing, economics, or business analytics.
Hmm. Sounds like you might consider avoiding more student debt in lieu of gaining specific business skills for half the cost.  Or, apply your knowledge and skills set where you're currently working and reap the financial rewards and bonuses.