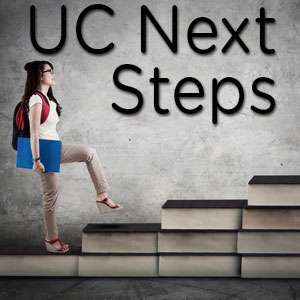 Congratulations on your acceptances to the UC! As May 1st quickly approaches, there are a few things you'll need to do.  Get your planners (or GCals) and set time aside for the following:
1) File your Statement of Intent (SIR) by May 1st for freshman, and June 1st for transfers.
2) Pay your SIR deposit to ONE college. If you are waitlisted at a different college, pay your SIR to a college that you have been admitted to, not the waitlisted college. Unfortunately, the SIR deposits are nonrefundable and non-transferable.
3) Sign up for Orientation to learn more about college life and protocol. (Not all UCs offer Orientation)
4) International students may need to submit a Statement of Legal Residence (SLR).
5) If you've been offered a position on a waitlist, you must opt-in to the waitlist for all of the campuses that you're considering.
6) If you change your mind and withdraw your SIR for a UC campus, you'll lose the SIR deposit, and you'll need to file a new SIR and pay a new SIR deposit at the college you choose to go to.
7) The Analytical Writing Placement Exam (AWPE) will take place on May 11th if you haven't met the Entry Level Writing Requirement (ELWR) by April 1st.
8) If you took college-level courses through a dual-enrollment program, you'll need to provide a final transcript from your college (even though the course may have been offered on your high school campus) after high school graduation.
Mark your calendars to make sure you don't forget any steps!