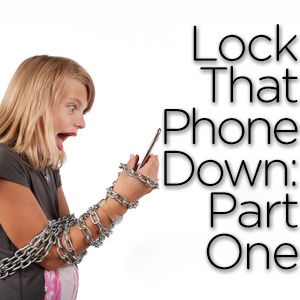 Let's be honest, we all use our phones and tablets to entertain our kids when we're in a pinch – right? – so let's be sure that our kids can't end up in the wrong places on our devices.
Forget about passwords to get into your device.  If they're already using it, they've already unlocked the key to your entire database. But there are some smart things you can do to keep your kids safe.  Android phones and tablets allow you to set a PIN lock on any app. This means that you can set your phone or tablet to have one app open and lock it for the kids to play with it. They won't be able to use any other programs on your phone or tablet until you unlock it.  If you want them to access several apps, set up a guest account where you select the apps and they can roam around in their account without having access to yours. To set this up, open the Google Play Store app, go into Settings, and then Parental Controls.
If you need longer entertainment – for say car rides or emergencies -- set up the YouTubeKids app on your phone to ensure that they're watching the shows and movies you approve. You can also run Kids Place and Kids Zone so your kids can run the apps you've approved and nothing else.
For the lucky kids who have their own phones, use MMGuardian to remotely monitor and control which apps they're using and to create a schedule for when they can be on.
But if your kids have too many apps to keep track of on your phone, it might be easier to use AppLock to put a PIN on your apps that you don't want them to get into.
With a little planning, you can keep your kids safe from the unsavory part of the world until they're old enough to deal with it.
[Source]