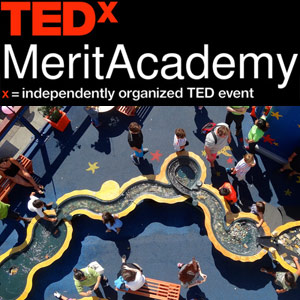 In August, Merit Academy hosted TEDxMeritAcademy at the Rio Theatre in Santa Cruz.
Gregory Gavin was a featured speaker, and his TEDx Talk is embedded below.
"What if you built a river in a classroom?"
Artist Gregory Gavin set out to use the engaging properties of water to invigorate public life and ended up creating a new kind of classroom. Only in a world with consequences, he argues, can children truly be engaged, take on responsibility and become creative agents.
About Gregory: Gregory Gavin is an artist, inventor and educator. He founded Riveropolis in 2004 to design, build, install and facilitate innovative water play environments and to bring design experiences to schools, museums and neighborhoods. Since 1991, his projects — ranging from woodworking to filmmaking, to interactive waterworks — have engaged a diversity of participants to both create and exhibit work in public places. His work has been particularly successful in overcoming the obsessive segregation of children, teen and adult activities into separate realms in a way that he feels damages the transfer of inter-generational knowledge and discovery. Gavin has been commissioned by National Endowment for the Arts, the de Young Museum, Yerba Buena Center for the Arts, the Seattle Public Art Program and the Bay Area Discovery Museum. He has taught at the California College of the Arts and is a California Arts Council Fellow.