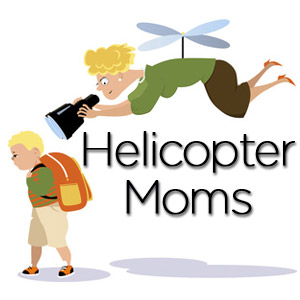 Moms who hover over their children are Helicopter Moms. They're worried that their children might get hurt so they constantly make sure that there environment is void of sharp corners or opportunities to put their kids at risk. These moms consider themselves to be superior to other types of mothers because they are always fussing over protective layers of clothing and gear for sports.
Children of Helicopter Moms might wear multiple layers of sweaters and jackets so they will be warm. When playing sports, they'll be the player wearing every form of protective gear available. And if the flu is going around the school, this child will be wearing a mask and downing Vitamin C every few hours, and then they'll be on their way to the ER to get antibiotics.
Helicopter Moms don't stop worrying at high school graduation.  They're the moms who make excuses for their college kids by requesting retakes on exams, or call in sick to their adult children's employers. Yup, I can only image how they get entangled in their marriages and grandparenting.
The result of helicopter parenting is that these children aren't prepared to make decisions on their own. This can lead to insecurity and often depression. So rather than hover over your child, let them experience some risks and manage their own consequences. A Helicopter Mom will never step back far enough to ever be accused of neglect or endangering their children. Just reel it in a bit so your children can experiment and grow. 
[Source]