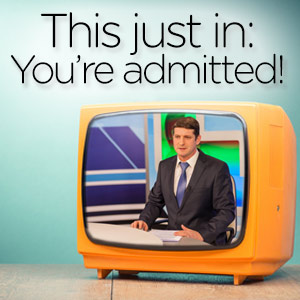 Many colleges have changed their marketing strategies to recruit top students.  Instead of sending the "large envelope" to congratulate students on their acceptances, colleges are sending giant mascots, balloons, and gifts to their most coveted applicants.  At Merit, students have received handwritten letters from the dean, and Yale actually called one of my daughters three times to encourage her to accept their full-scholarship offer.  Wheaton filled a bus with admissions officers/staff and drove out to a student's high school to surprise her with the news (captured on YouTube).  These stories have gone viral on social media building hype about college acceptances, which only benefits the colleges and the very few who get in. 
I wonder if this type of extravagant marketing leads to self-doubt, anxiety, and depression among the tens of thousands of students who don't get into their top colleges.  When these other students see colleges rolling out the red carpet and offering gifts to a few lucky students, the vast majority of college applicants may suffer in silence as they receive rejection letters.  Social media already creates an unrealistic view of how "happy and successful" everyone else's lives are compared to themselves. 
At Merit, I recommend that students keep their college lists, GPA, and SAT/ACT scores to themselves.  That way, if they get rejected from their top colleges, they don't have to share that sad and disappointing news with their friends, relatives, and social media.  It's tough enough to deal with rejection when students open those small envelopes.  Having dozens of people ask if they got in or having video cameras on them as they check their inboxes, can be devastating.  I hope colleges stop their public hype about accepting a few students to promote their brand.  Let's give all students the decent respect of choosing their colleges and making those final announcements privately.