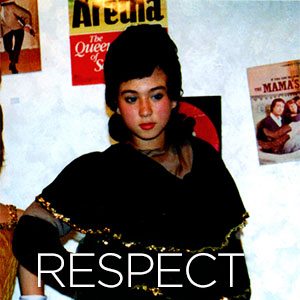 Youth today don't understand where their music evolved from. As an old timer myself, I grew up in the 50s and 60s when the birth of rock 'n roll revolutionized music. To honor legends like Aretha Franklin, I wrote and directed the musical revue "Best of Rock 'n Roll Music: 1955-1975" back in 1998. My students at Merit helped research and select an artist and #1 song for every year between 1955 and 1975. We wrote short introductory speeches that described each artist's style and legacy before they performed the number in full costume. They even collected album covers and used them as props on stage.
Nicole sang "R.E.S.P.E.C.T." in our 1998 productions. She and her classmates took this musical revue on the road as a school business where they performed for business functions, senior centers, and birthday parties. At under 100 lbs, we had to add inches to Nicole's small frame so she could pull off Arethra's image. During the summer before the production, we watched dozens of videos to learn more about each of the rock 'n roll legacies that we honored that summer.
"When John Hammond of Columbia Records first heard 18-year-old Aretha Franklin, he called her 'an untutored genius, the best natural singer since Billie Holiday.' She sang the frantic hits "I Never Loved a Man," "Natural Woman," "Chain of Fools," and "R.E.S.P.E.C.T." Aretha's "R.E.S.P.E.C.T." is an example of bass-line syncopation, which provided a bouncy alternative to the steady quarter- or eighth-note pulse of the blues. Aretha Franklin was inducted into the Rock 'n Roll Hall of Fame in 1987." -- speech by Merit student.
I believe that these students have a deep appreciation for artists like Aretha Franklin and the other greats -- Elvis Presley, Chuck Berry, The Beatles, Rolling Stones, etc. -- because they studied them. Aretha Franklin was the Queen of Soul and an icon in the civil rights movement. Her legacy will live on forever.