By

Susan Tatsui-D'Arcy
29 / Aug / 2016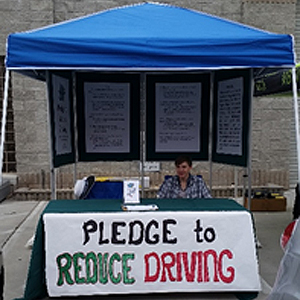 After starting WHEN, NOT IF in April, Logan hoped to divert 1,000 lbs of CO2 from entering the atmosphere. In 3 months, he reached his goal by getting people to not drive their cars one day per month.  Then, Logan set a lofty goal of 10,000 lbs of CO2 by the year end 9 months in.  That's when Logan changed his approach and asked people to pledge to reduce their total driving by 5-50% each week.  By getting people to pledge to reduce their driving at the Annual West-End Celebration in Monterey last weekend, he reached his goal in just one day!  Wow!
Join Logan in fighting climate change by pledging to reduce the number of miles you drive each week.  Go to his website at www.WhenNotIf.org.  It's easy to do because his website does all the calculations for you.  All you need to do is enter how many miles you drive during a typical week and your car's MPG. Easy peasy.  He'll add your pledged contribution to see if he can now meet the new goal of 25,000 lbs of CO2 by December 2016. 
Even if you aren't a philanthropist who can change our energy infrastructure, you CAN pledge to reduce your driving. Your contribution will send a message to everyone that even one person can help us lower or CO2 by 60% in 10 years. Logan thanks you for doing your part!